According to a report by Gallup, only 33% of Americans are engaged in their work, more than ever American millennials say they're open to different job opportunities, and 52% say they're "just showing up," 17% describe themselves as "actively disengaged". Wow! The level of disengagement for workers in the U.S. is not an anomaly, it is more common than ever.
This can have dire consequences for companies that have low engagement. Companies that have lower levels of engagement have lower productivity rates, experience higher rates of absenteeism, lower customer ratings and are less profitable compared to companies that have higher rates of engagement. On the flip side, empowering and engaging employees can have seemly positive results. Employees that are engaged and empowered feel accountable, responsible and ownership for the work they perform. This translates into longer term employees, higher retention rates, increased efficiency and reduced costs associated with customer experience issues.
So how do you engage contact center agents with a WFM Mobile App?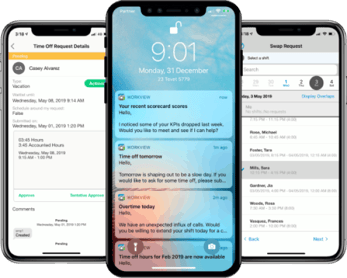 #1 Empower Employees Through Scheduling Flexibility
Empowering agents encourages them to feel responsible, accountable and ownership for their work. One way to empower your agents is through scheduling. With WFM, agents are able to submit schedules changes, which can help manage their day to day better. This specifically helps those agents, who are multi-skilled. Multi-skilled agents often find themselves switching between different tasks, sometimes on a daily basis. Using a mobile app with your WFM software allows agents to submit those tasks, check their schedule, request time off, swap shifts with a coworker and more, all with a tap of their finger. They won't have to rely on anyone else to submit those requests for them. Little things like that that can add that sense of empowerment to an agent. In turn it also creates agent accountability.


#2 Use a BYOD Approach
Mobile devices have become an accepted — and even preferred — way for employees to communicate and perform their jobs. With more and more organizations adopting "bring your own device" (BYOD) policies in the workplace, it makes sense to empower your staff with the ability to manage key aspects of their positions directly from their devices.


#3 Reap the Benefits of a WFM Mobile App
Increase employee productivity

by enabling staff to view and manage important schedule information, including time off, overtime, and shift request/bidding/swapping opportunities, regardless of their location or access to a computer and web browser.

Enhance

performance

by providing employees quick visibility into their key performance indicator (KPI) scores, recognizing trends, comparing performance across KPIs, identifying opportunities for improvement, and taking action to improve.

Keep employees updated

using mobile native "push" notifications.

Increase employee satisfaction

by empowering individuals to use desktop systems and smartphones to execute their most frequently performed activities.

Extend mobile capabilities to employees without compromising on data

security

by preventing private information from app-related interactions from being stored on the device.

Leverage your

existing investments

while providing staff with a consumer-like experience.
Now sure how to enable a mobile app with your WFM solution? Click here to start a free 30-minute assessment of your mobile app readiness. Making these investments will increase job satisfaction and job loyalty among your agents, which in turn will increase efficiency and guarantee excellent customer service for every call.