Attach Salesforce Data Fields for Verint Search & Playback
Use EliteConnect to make recordings searchable by new data fields such as customer number, customer status, order status, Zip/Postal Code, and many more. Often these are values that aren't natively in your recording system, but can be cross-referenced manually in CRM. The application supports a variety of leading CRM platforms such as Salesforce and Microsoft Dynamics. Use the Integration Check below to find out what fields are available to inject into Verint.
Playback Verint Interactions Inside Salesforce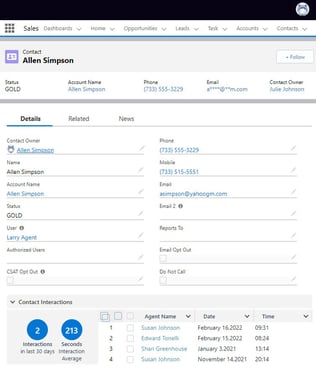 EliteConnect brings the latest interactions directly into your CRM view. Connecting with CRM tools such as Salesforce and Microsoft Dynamics, a user is able to playback an interaction with a single click.
In this example, the Contact Interactions section provides the total of interactions in the last 30 days, the average interaction time, and a link to the recordings.
Reduce discovery time through single-click access to interactions from within a customer's CRM screen
Improve customer visibility and research time from within Verint
Use custom data fields inside the Verint platform to trigger other events such as Shared Inboxes, coaching triggers, and data retention


Ready to Integrate Verint with Salesforce or Dynamics?