Cherry-picking calls for coaching happens. I've seen it time and time again. Intentional or not, cherry-picking happens naturally and is perceived as unfair. So what's the best way to ensure your Quality team isn't being too choosy? Here are some steps to fix the cherry-picking dilemma.
Let's understand the problem. QM leaders don't have the time to babysit or micromanage their quality teams – specifically the length of calls and how they obtain their calls to meet coaching quotas for the week, month or quarter. If you're seeing your quality team hit their numbers, most QM leaders tend to be satisfied. What's unseen is that many of the calls are short and easy to audit.

Agents generally perform better on short calls; calls that may not have as many steps or procedures and fewer customer questions. Furthermore, your QM team may not even be staffed to listen to longer calls – perhaps up to calls over an hour! Usually QM teams pick specific calls between 5-10 minutes, or even a particular day of calls. Every day our consulting team at Group Elite helps customers make sure that evaluators aren't picking favorites.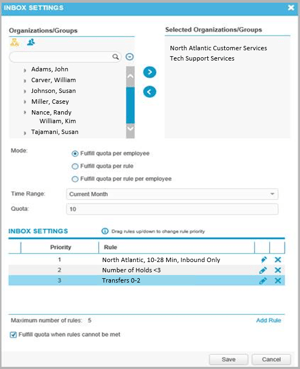 In my experience, the best way to combat this frustration is with a feature called "Shared Inbox" in the Verint Quality Management tool. The Shared Inbox can be built in approximately 15 minutes and can save a lot of time throughout the year. It randomly puts specific calls based on topic and length into a queue for the Quality team. The Shared Inbox even allows evaluators to reject calls for specific reasons, such as a calls that include family members or in a language they don't understand. The reporting on the back-end can find excessive rejections and will help you keep the team performing at its best.

If you have multiple evaluators, the solution can also provide the necessary workflow among them. It can also help you evaluate an optimal number of interactions across teams and manage quotas effectively. Full text search across voice and text interactions can even be used to locate topics of interest quickly.

For a more analytics-drive approach, use Analytics-Driven Quality Management (AQM) to search large numbers of calls and focus on the ones that matter the most. AQM can automatically categorize calls into speech analytics-derived categories focused on situations that can make or break customer relationships, including greetings, escalations, hold behaviors, empathy, and confusion. Powerful search and filtering capabilities can leverage crucial CTI and data field tags — such as high-profile accounts, high value transactions, and claim numbers — and further help you find interactions of interest.

Prepare your teams with a Shared Inbox approach today to coach the good, bad and the ugly. Reduce frustration, avoid cherry-picking and engage your contact center agents with coaching sessions that drive results. Select "Contact Us" and let's chat!