Group Elite is a company of superstars. How do I know? Because our teammates are a family of superstars that know how to win, know their area of expertise. and are determined to be the best that we can be. I was asked to be candid about my experience with Group Elite and these are my three reasons why our team has made Group Elite a house of achievements that's built on performance, driven by expertise, and thrives on success.
Employee Performance Matters
I'm very proud of the extraordinary talent we have at Group Elite. From HR to Operations, and everything in between, we built this company on a level of performance that directly impacts the companies we serve. The contact center industry is hyper focused on performance, and they expect no less from our team. Group Elite is an exciting place to work because our performance-driven culture directly influences our customer's "customer experience" and automates tasks that impact their internal goals for contact center employee retention and compliance. When our team works with clients it's easy to see...and why Group Elite customers keep coming back for more.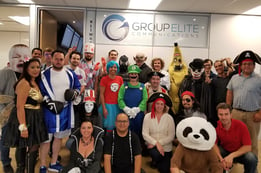 Driven by Expertise
Our superstar team does it all – implementations, project management, managed services, training, consulting, development, marketing, and sales. Most of the members of our team have decades of experience in their field and have worked, or worked with, many of the Fortune 100. And expertise creates excitement! This past year, our team launched a new program called Quick Wins. Our consultants don't just leverage their expertise vaguely, they dig deep into specific challenges for First Contact Resolution, Maintaining Compliance and reducing Agent Churn. Our team doesn't just show clients how to do things; they take the initiative and see projects to the finish line. "Our Experience is Your Advantage" isn't just our tagline. Our experience is poured into every project we work on.


Success is Our Target
We also find success through the willingness to recommend question we asked our clients, or Net Promoter Score. Our team's projects consistently hold an NPS score of over 80 and the Quick Wins prove their value through the cost savings and/or the direct customer improvement.
22% increase in First Contact Resolution
6% decrease in Average Handle Time
$500,000 annual savings
Compliance savings over $600,000
$300,000 savings in Total Cost of Ownership
The numbers from our Quick Wins continue to astound me and success also keeps us growing. In 2011, Group Elite was founded. Jump to 2016, and we're operating in Canada, the U.S., Europe and Asia. As of 2021, we are 300% larger and this growth comes from success. Other businesses have employees - we have a team. Our performance, expertise and success are all based on maintaining open communication, accountability, and transparency.
This culture fosters creativity and innovation, and I would love to talk to you more about becoming our next superstar.