In previous posts we've spent a great deal of time talking about what makes up the perfect Speech Analytics team, but in this post I'd like to cover building and shaping the perfect WFM team. The Workforce Management (WFM) team in a contact center oversees the resources associated with forecasting, staffing, and scheduling of all employees. These employees could be agents handling phone calls, or representatives handling emails, chat, social media interactions, and even completing a variety of back-office tasks. With all of this responsibility, how should you shape your team to have the most effective span of control and ensure things run smoothly?
First, let's talk span of control. When I think of span of control and the layout of a good WFM team, I immediately think Incident Command System (ICS). For the past 20+ years, I've volunteered as an Incident Communication Center Manager for a Denver area type 3 Incident Management Team. We step in to provide support for local law enforcement, fire departments, forest service and land management agencies. In fact, the USDA defines ICS as, "standardized, on-scene, all-risk incident management concept…and allows its users to adopt an integrated organizational structure to match the complexities and demands of single or multiple incidents without being hindered by jurisdictional boundaries."
Sounds a lot like a contact center!
Yes, just like one firetruck or ambulance can't single-handedly meet the requirements of a modern community, the same is true in the contact center. Not every supervisor or team lead can handle the day-to-day requirements of effective staffing. If we apply this same theory to a WFM team, this means that a single person should manage 5-7 people maximum to maintain an effective span of control. If we implement this same theory in a WFM team, things will run smoothly as well.
Let's look at an example. Say an organization has 15 contact centers, each with 1,000 agents handing contacts (and a litany of management/admin staff to support those agents). There are likely "resource centers" at each one managing the direct, day to day operations of the center but there also needs to be someone (or in best case 2-3 "someones") "at corporate" overseeing those resource centers and making sure tasks are getting done in a timely fashion.
Not having the "someone at corporate" can lead to pieces of the process being missed. Whether that be schedules not being created in a timely manner or requirements not being distributed appropriately or even time off not being correctly managed. Ideally an effective organization should look something like this –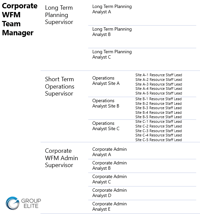 Click to enlarge
In this scenario, each person has up to 5 people to supervise and there is a clear delineation of chain of command and escalation paths. Also, the Supervisors can "fill in" for each other for vacations. In most cases, the Operations Analysts don't "directly supervise" the Resource Center Leads, it's more of a dotted line kind of thing; however, the communication path is what I'm trying to demonstrate here. During "major issues" this organization is flexible and can increase at any level to add support to the areas that need it.
The Incident Command System was created back in the 1970's following a series of catastrophic fires in California. I'm sure that just like California, your contact center has the occasional "fire" of its own such as:
Surprise Campaigns from Marketing
System Outages
Natural Disasters
Global Pandemics
New Product Rollouts
Billing/Mailing Errors
Do you need to go and train your WFM team in ICS? Probably not. However creating a solid span of control across your WFM team will maximize the efficiency of the team and you will always be ready for the next "fire" and hopefully help to mitigate the impacts of it.
If you'd like someone to evaluate your WFM team structure click Contact and we'll "schedule" a time (no pun intended) to have a call.