LAVAL, QUEBEC AND GREENWOOD VILLAGE, COLO. (PRWEB) JUNE 29, 2022 - Group Elite, a world leader in contact center services, was awarded Services and Support Partner of the Year and won the first-ever Customer Management Integration Challenge. Winners were announced at Verint® Engage® 2022, the industry's premier customer engagement event in Orlando, Florida. Winners were selected by a judging panel based on their expertise, proven track record, and focus on customer value during the past year. The first-ever Integration Challenge was also judged based on creativity and development skills by building innovative integrations with Verint solutions.
As the Services and Support Partner of the Year, Group Elite's award-winning team supports over 30 partners in the contact center industry and impacts many implementations of Verint solutions across the globe. Group Elite was chosen for their white-glove approach software to user adoption, Quick-Win Targeted Engagements, and innovative solutions to transition customers from legacy workforce optimization solutions.
"What an amazing way to kick off our 10-year anniversary," shared Michael Moore, President and Founder of Group Elite. "Thank you to our customers, partners, and the team at Verint for recognizing the dedication of our team. Our customers say it day-in and day-out with an 89 NPS Score, and to be chosen Services and Support Partner of the Year by Verint is double special."
For the Customer Management Integration Challenge award, Group Elite leveraged the openness of the Verint Cloud Platform and Developer Portal to create a new solution called EliteConnect. EliteConnect connects Salesforce and Verint through a powerful add-on that integrates customer data into the Verint Engagement Data Management platform, as well as presents interactions into Salesforce for easy playback and journey analysis. EliteConnect joins Group Elite's portfolio of supplementary Verint applications including EliteSync, EliteKeep, and EliteAssist.
"Congratulations to Group Elite for their ongoing commitment to services and support excellence," says Verint's John Bourne, senior vice president, global channels and alliances.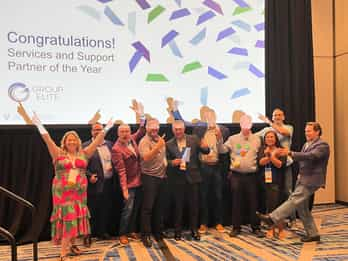 "Their double win at Engage this year for both their services and integration expertise is a testament to meeting customer demand for easier and faster ways to differentiate, accelerate growth and improve the customer experience."
For more information or to speak with a Group Elite specialist about EliteConnect, please visit https://www.groupelite.com or email info@groupelite.com.
Original Press Release: